An asset manager's perceived quality is positively correlated to propensity to buy, research by Fundamental Media reveals
Key points:
The perceived quality of an asset manager's brand is the main consideration for Australian financial intermediaries when buying a fund, research by Fundamental Media found.
Insights from the Australia Global Brand Survey 2022 are based on responses from 178 financial intermediaries in Australia. To understand their perception of asset managers' brands, we have developed a 'brand equity index' using a combination of quantitative and qualitative methods across five pillars: recall, familiarity, perceived quality, propensity to buy and distinctiveness.
The propensity to buy score assesses the likelihood to increase the use of funds provided by that particular asset manager. When correlating this score with those from the other four brand factors, we see that Australian financial intermediaries' belief in an asset manager's ability to generate returns (perceived quality) is the main consideration when buying a fund. Perceived quality has the strongest correlation to propensity to buy, followed by unprompted brand recall. Perceived quality was also the most influential factor in 2018 but the strength of the correlation was higher at that time and has since weakened.

The score for distinctiveness as a brand factor took into consideration scores for 14 brand values. When looking at how these brand values affect the propensity to buy, we found that the correlation was low across all brand values. This indicates that there is no overall preference in market for specific characteristics of asset managers.
However, qualitative analysis of comments on different asset managers revealed that Australian intermediaries provided more positive comments for those asset management firms that scored high on the brand values 'targeted' and 'careful thinking' than those perceived as 'broad' and 'energetic'.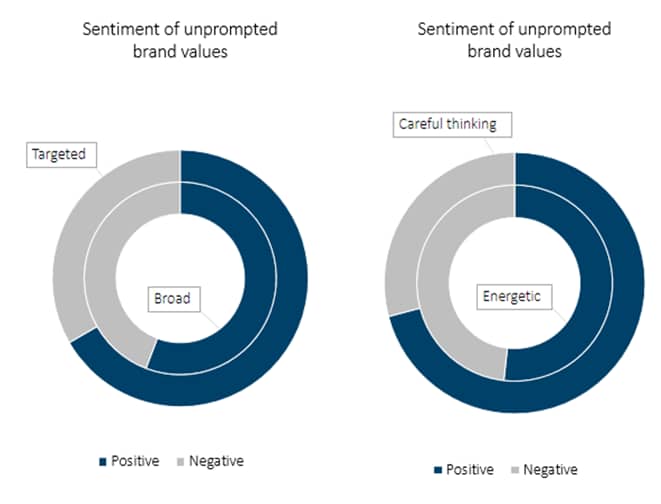 Although global brands tend to dominate the top ten of the Brand Equity Index, there are a number of local players participating and defending positions. Within this top 10, however, our research concludes that there is little consistency in style. Unlike in other markets globally, this suggests that Australian intermediaries do not have a set preference for the type of asset manager they work with.