Nosible helps asset managers make data-driven capital allocation decisions
Fundamental Group is enhancing its capabilities through a substantial strategic investment in Nosible, an AI platform used by asset managers to make data-driven capital allocation decisions. The aggregate AUM of managers using Nosible grew from $500m to over $30bn in 2021.
Through this investment, Fundamental Group is demonstrating its commitment to applying state-of-the-art technology in asset management and enhancing its existing tech stack with curated AI insights from Nosible. Fundamental Media's tech stack currently consists of solutions like its Outcome Analytics dashboard for measuring, monitoring and optimising brand, content and product campaigns; its cookie-less attribution technology The Delta Tag which was designed to remedy the misrepresentation of campaign data by cookie-dependent analytics tools; and its Alphix suite of analytics and insight delivery solutions.
At its core, Nosible is a neural search engine that learns the style of a manager from data and then provides them with user-friendly tools that help them to identify and analyse investment ideas matching their style across any investment theme, geography, sector or industry.
Style analysis is done by Nosible's AI which is trained on a curated dataset of 128 company metrics and 15 factors going back 10 years. This data is ranked across multiple geographic, sector, industry and thematic clusters to produce a set of over 120,000 data points per company. Nosible has done this for 42,636 public companies listed on over 80 stock exchanges worldwide.
Asset managers use Nosible to gain a deeper understanding of their portfolio and investment processes. This helps them communicate their fund more succinctly to allocators and helps Nosible identify new ideas for their fund from any geography, sector, industry or theme worldwide.
Asset allocators use Nosible to compare funds, identify outliers in funds, and discover risks in the underlying holdings that could easily have gone unnoticed. Later this quarter, Nosible will be launching the ability to visualise style consistency and monitor a fund for style drift.
In addition to helping asset managers and asset allocators understand funds at a macroscopic level, Nosible has used its data and algorithms to help equity analysts understand companies at the microscopic level more quickly. The app shows analysts the peers for any given company, how that company fits into the multi-factor style of the fund, how the company compares to peers across key accounting ratios, how the company has performed relative to peers in the market, and even which themes the company is related to as well as the other companies related to those themes.
Until now, the ability of a fund to unlock the power of AI has been limited to those funds who employ teams of quants and data scientists. Nosible lets any portfolio manager or equity analyst, irrespective of their background, unlock the power of AI by leveraging their portfolio.
Commenting on the technology, Stuart Reid, Nosible's founder and CEO, said: "AI is inside of products used by billions of people every single day all around the world – Spotify, Netflix, YouTube, Amazon and so on. Nosible is bringing that technology to investment management."
Angus Maclaine, Fundamental Group's Founder and CEO: "We are proud to partner with one of the most talented AI tech scale ups in the asset management industry. We have been working diligently to develop and, in this case, invest in technology that will assist our clients in enhancing their operations. We do that with technology that allows us to reach audiences across the globe, getting asset management strategies in front of the right audience at the right time, driven by a deep insight into these global audiences. We believe that the new AI tool from Nosible will become a driving force in improving the business operations of global equity managers worldwide."
Nosible was founded in February 2020 by former equity portfolio manager and quant analyst Stuart Reid with the goal of bringing user-friendly AI to the rest of the investing community. After graduating with a Computer Science & Business degree, he worked at KPMG where he developed bespoke asset pricing models for large corporations. He then worked in the asset and liability management team of a large insurance company before working for South Africa's first AI hedge fund as their head quant.
For more information, contact [email protected]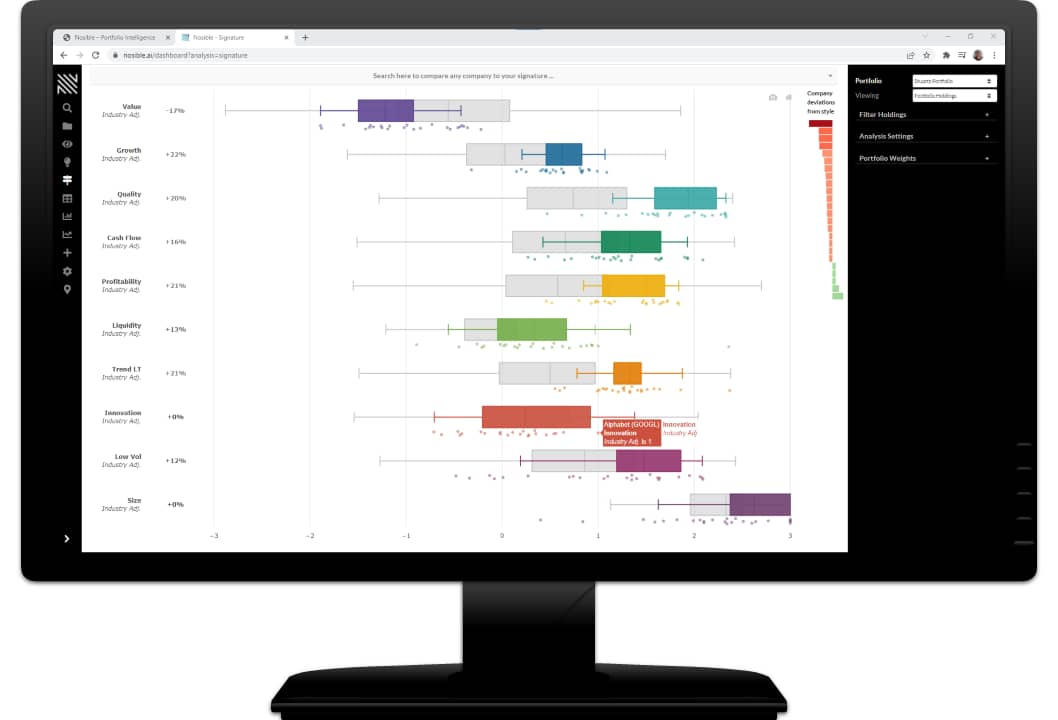 Image shows the style of a portfolio across the top 10 core factors.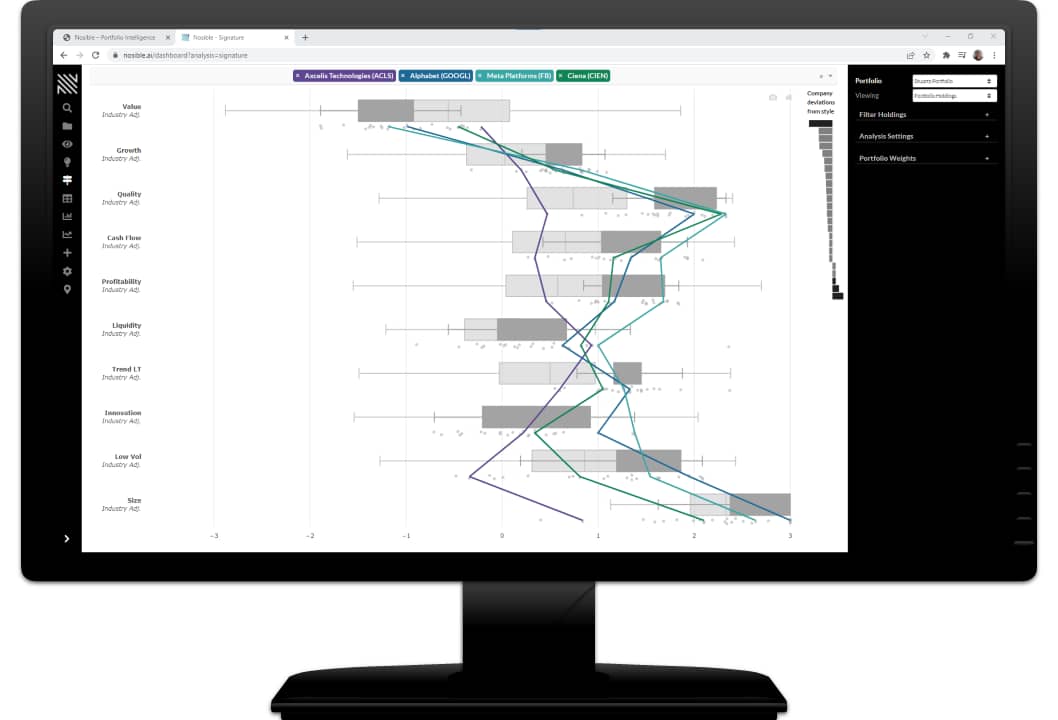 Image shows the ability to identify inliers and outliers in any given portfolio.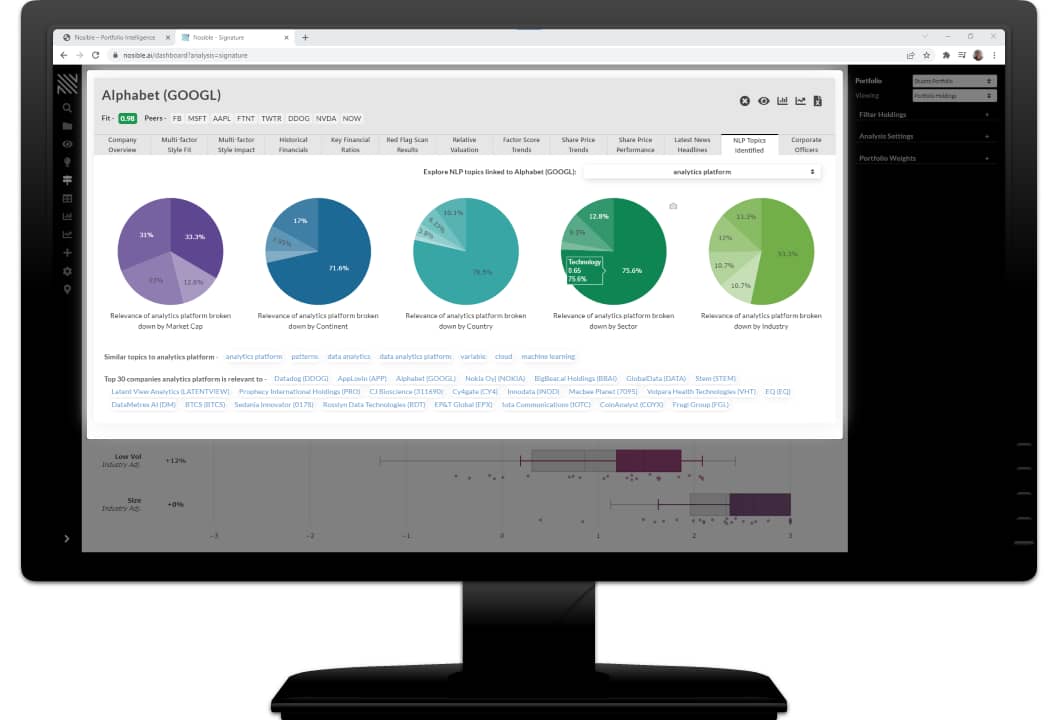 Nosible's language model helps analysts navigate investment themes.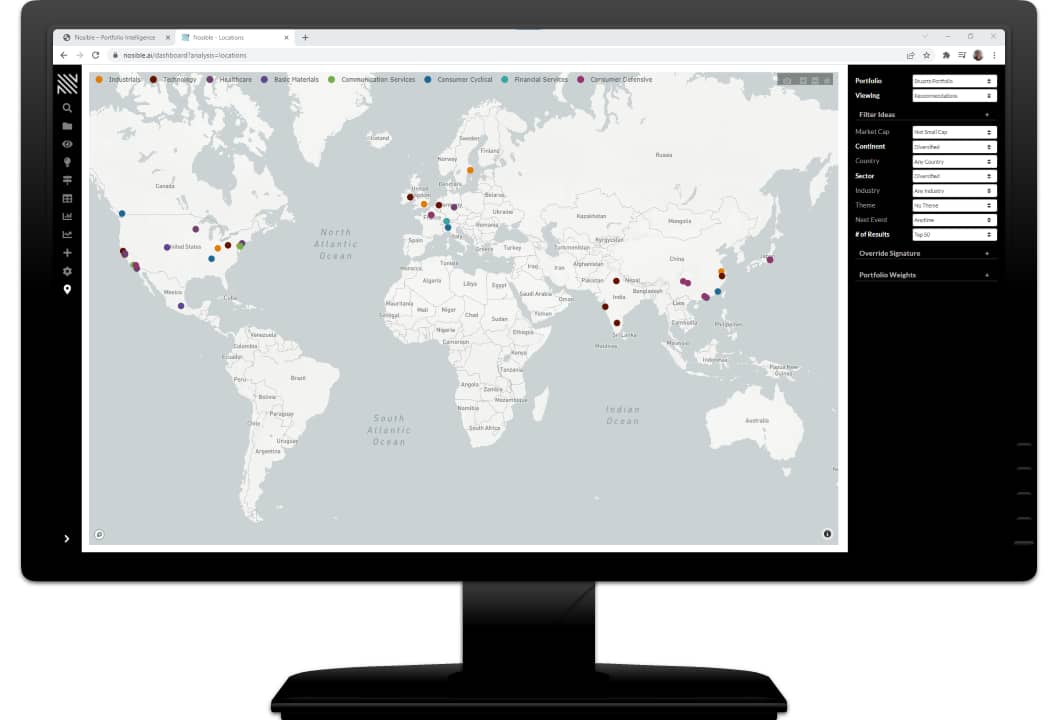 Top ideas for a fund can be generated across any geography, sector, industry or theme.