New research reveals how the pandemic has shifted the behaviour of European financial advisers
Key points:
The majority of UK financial intermediaries have been working mainly from home since March 2020, while France, Italy, Spain and Germany display lower percentages
Asset managers might want to consider how this will affect the effectiveness of various advertising channels during and after the global pandemic
The time saved by less commuting has been turned into additional working hours by most respondents, but a significant minority uses it to read industry news
Working from home has been the norm for UK financial intermediaries during Covid-19 and is expected to continue for the next six months, unlike in other European countries where the majority of intermediaries still goes into the office on a regular basis, new research by Fundamental Media reveals.
The interim results of research among 560 financial intermediaries in the UK, France, Italy, Spain and Germany found stark differences between countries when it comes to working from home during the pandemic. While 72% of intermediaries in the UK have been working mainly from home since March 2020, only 27% of their German counterparts have done so. In the other three markets, between 38% and 42% of intermediaries have been mainly working from home since the start of the pandemic.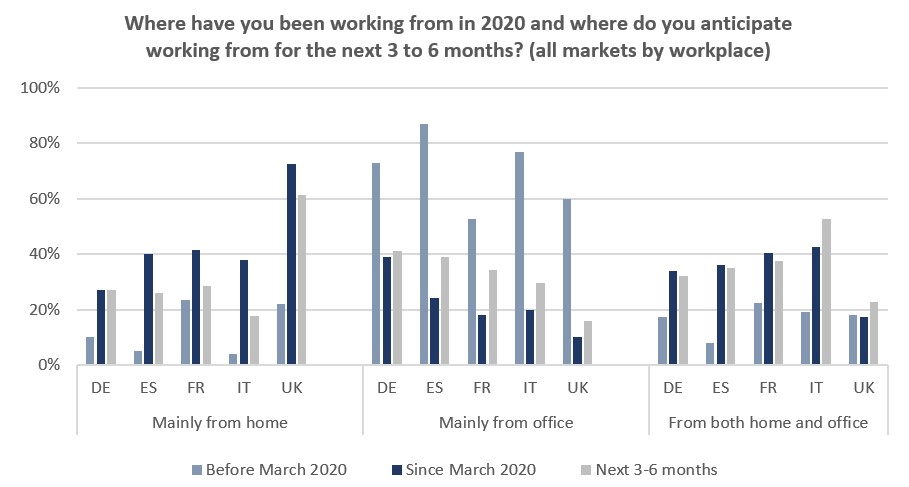 At 39%, Germany has the highest number of intermediaries who continued to mainly work from the office during the pandemic.
Over the next 3-6 months, 61% of UK intermediaries expect to be working mainly from home, compared to less than 30% of intermediaries in continental Europe. In Italy, 53% of intermediaries expect to work from both home and the office, while 41% of German intermediaries believe they will mainly be working from the office.
Some of these figures are quite surprising, considering strict lockdowns are still in place across Europe and asset management marketers might want to consider how this affects the effectiveness of various advertising channels.
Commuting time mostly used as additional working hours
As more people started working from home when the Coronavirus spread, they gained extra time which would normally be spent commuting. More than half of financial intermediaries in all countries surveyed said they use the extra time as additional working hours. This figure was the highest in Germany (66%) and lowest in Spain and France (54%).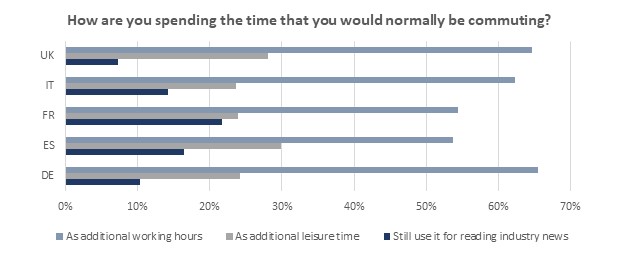 Around a quarter of all intermediaries use the extra hours as leisure time, particularly in Spain (30%) and the UK (28%). French intermediaries most often use the extra time to read industry news, at 22%, while the Brits are least likely to do so (7%).
Asset managers can use this knowledge to tailor their marketing and media activities to serve the right message to the right audience at the right time of the day, as well as through the right channel and/or device. Our research findings also showcase that if you are looking for the best possible result, clearly the required approach will vary from market to market. Applying a one-size-fits-all approach will definitely not suffice.
---
Keep track of your professional development and knowledge with CPD Hub; our free-to-use platform which allows you to earn, track and report all of your CPD learning. Bank your CPD points for this article and access a wealth of other content by experts from leading financial institutions.