Average sentiment has increased in Q3 as well, with September seeing the highest levels of 2023
Key points:
Asset managers posted less on social media during Q3 2023 but were more positive and received higher engagement
In September, average sentiment on both Facebook and LinkedIn rose to the highest levels seen in 2023
On LinkedIn, the topic Africa received the highest engagement and the topic of tax the least
Asset management companies posted less on social media during Q3 2023 compared to a quarter earlier but were a lot more positive and received a higher average engagement, research by Fundamental Media found.
We analysed a total of 3,979 social media posts of 44 leading asset managers during Q3, including 3,211 LinkedIn posts, and compared them to Q2 2023. In the second quarter, asset managers posted 4,425 times on social media, including 3,567 times on LinkedIn.
In Q3, the posts had an average sentiment of 1.08, while the average engagement was 64.6 per post. This compares to an average sentiment of 0.91 and average engagement of 46.3 in Q2. Sentiment is measured by looking at the number of negative and positive words used in the posts, while the engagement rate is the number of likes, clicks, video views, shares and comments a post has received.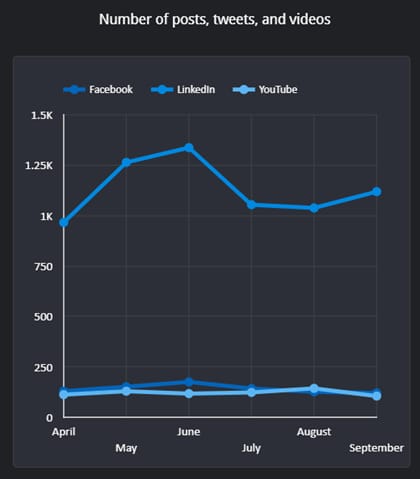 Similar to previous years, asset managers were less active on LinkedIn during the summer months. Asset managers posted slightly less on Facebook during Q3 compared to Q2 (respectively 388 times and 455 times) but a little more on YouTube (358 times in Q2 compared to 371 times in Q3).
Due to the changes made at X (formerly Twitter) following Elon Musk's takeover, from Q2 2023 onwards we no longer have figures on the number of tweets, engagement levels or sentiment for that social media platform.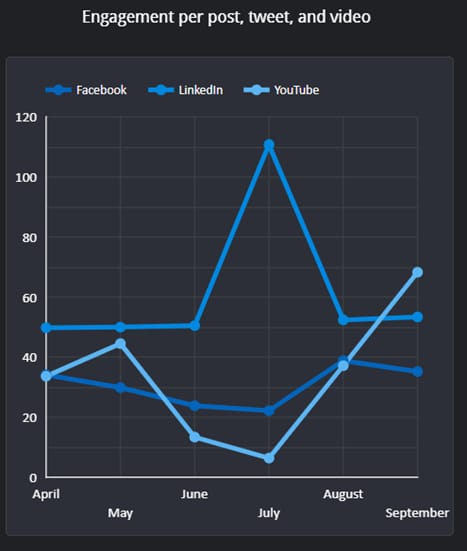 The average engagement on LinkedIn increased during Q3, but this was mainly caused by a large spike in July, when the average engagement rate stood at 110.81 per post. The average engagement on Facebook and YouTube increased slightly as well compared to Q2, although the engagement on YouTube dropped to 6.37 in July to then climb to 37.13 in August and 68.27 in September.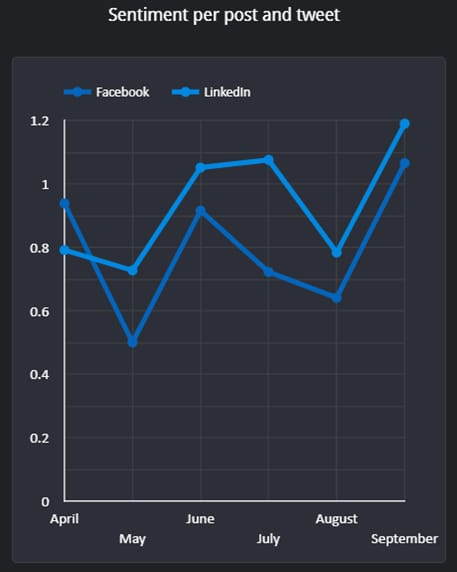 In September, average sentiment on both Facebook and LinkedIn rose to the highest levels seen in 2023. Over the course of the year, asset managers have become more positive on LinkedIn: while average sentiment stood between 0.6 and 0.8 for the first five months of 2023, from June onwards it often rose to above 1.
LinkedIn engagement
Looking only at their LinkedIn activity, asset managers posted the most about the topic's, expert views, market and ESG during Q3.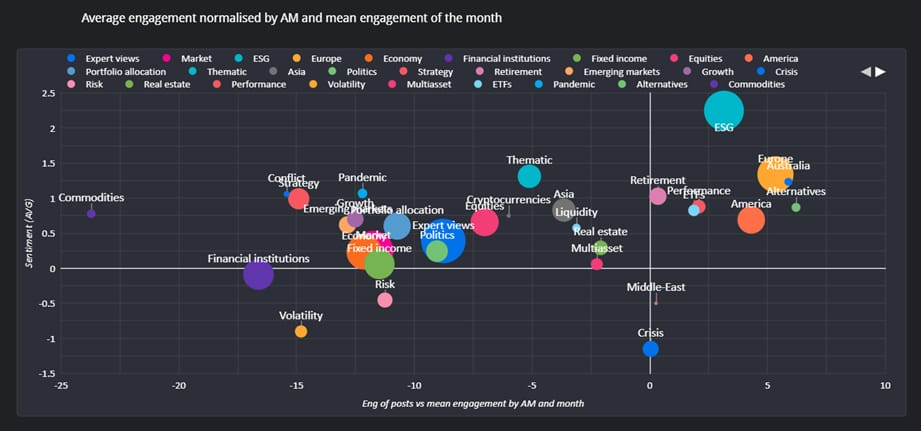 The topic Africa received the highest levels of engagement at an average of 101.55 versus the mean engagement by asset manager and month, with 10 posts on the topic. The topic receiving the least engagement was tax with an average engagement of -49.52 across 27 posts. Both topics have been excluded from the above chart for legibility reasons.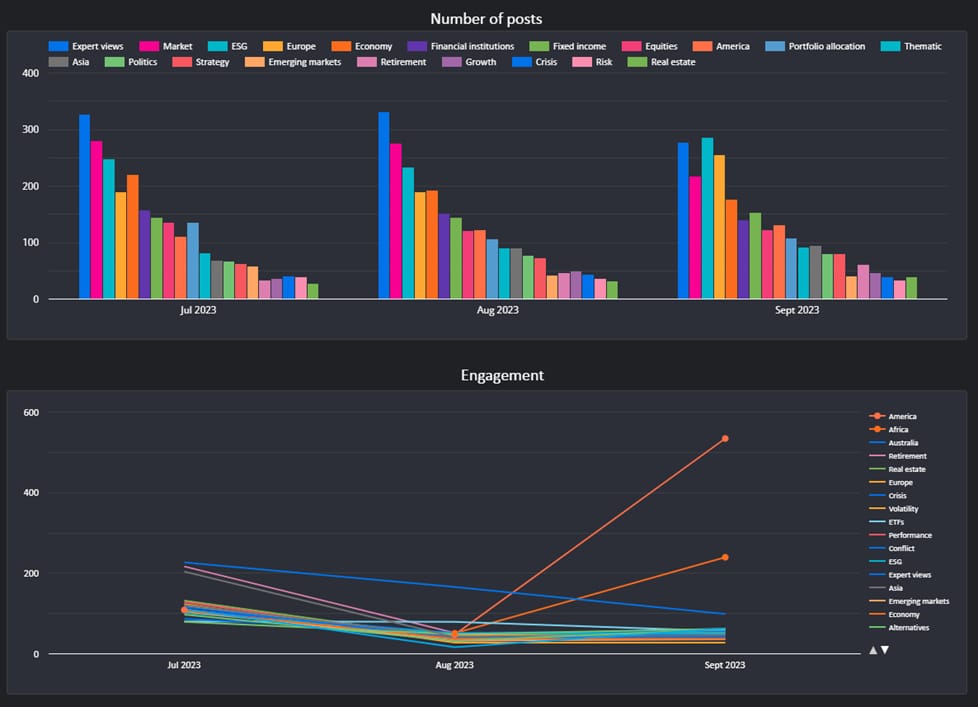 Asset managers most frequently posted about expert views during Q3 overall, but when we look at specific months, we see that ESG was the most popular topic during September. Expert view posts with high levels of engagement during Q3 included a post by PIMCO on a discussion between former Fed Chair Ben Bernanke and PIMCO's Group CIO, and a post by Ninety One on the World Bank's announcement on the launch of the Private Sector Investment Lab.
The topic Europe was the third-most popular topic in September. Well-performing posts on that topic included a post by BlackRock on London Pride event, and a post by Ninety One on UK savings platforms.