A surprise new entry in Australia and two big campaigns in Europe and North America are the highlights of January's advertising activity, data from Fundamental Monitor shows
Key points:
Amundi was the biggest advertiser in Europe by quite a distance last month, an uncommon occurrence for the French asset manager
Vanguard's advertising of their ETF business has received over 66.5 million estimated impressions in North America
Asia Pacific's largest advertiser is Trilogy, a property fund manager solely focused on the Australian market and a new entry into the list of top advertisers
Europe
French asset manager Amundi started off the new decade with a major campaign across the region as well as on a series of websites focused specifically on the Italian direct-to-consumer market. Although Amundi are often in the top fifteen of advertisers in Europe, it is unusual for them to be the biggest spender and by such a long distance. The second-biggest advertiser last month was Allianz Global Investors, which spent 61% of Amundi's relative spend.
Interestingly, BNP Paribas, whose advertisements received the second-highest number of estimated impressions, has also specifically advertised in the Italian market in January. The French asset manager achieved almost 2.1 million estimated impressions compared to Amundi's 2.8 million.
Another surprise last month came from American asset manager Capital Group, who are now displaying their online advertisements across Europe, which they have not done so over the past few years. This continent-wide exposure mainly came through its advertisements in global titles such as The Wall Street Journal, Bloomberg, and the New York Times, although they have also taken out advertisements in the UK and Italy specifically.
North America
Vanguard have kicked off the year with a big campaign to promote its ETF business, with 66,7 million estimated impressions in the US alone. The asset manager was the biggest advertiser in all segments (institutional, wholesale and direct). The high volume of estimated impressions is due to the campaign being mainly focused on the direct-to-consumer market, with more than 50 million estimated impressions originating from the BBC website.
January's second-largest advertiser, Invesco, spent 34% of Vanguard's spend and recorded 25.6 million estimated impressions, mainly from business websites.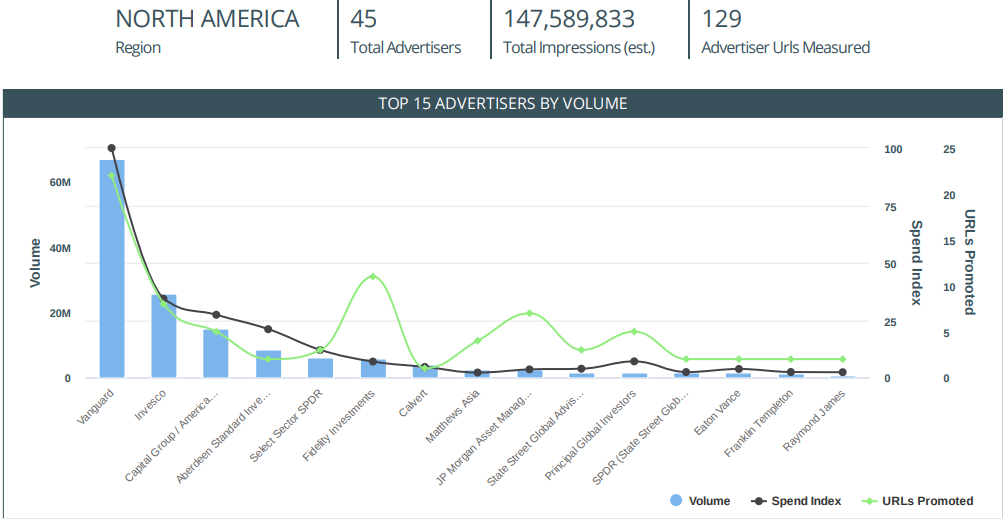 Asia Pacific
A surprise new entry in the APAC region's list of top advertisers is Trilogy. The property fund manager bought a few minor campaigns during the second half of 2019 but has now launched a major campaign focused on the direct-to-consumer and wholesale markets in its home market Australia. The adverts for its monthly income trust have received an estimated 15.8 million impressions.
The adverts from Fidelity, the region's second-largest advertiser, received 4.2 million estimated impressions across the 21 URLs promoted, but it spent only a quarter of the relative amount spent by Trilogy. Fidelity's adverts propped up across the region as well as on country-specific websites in Australia, Japan, Hong Kong, Singapore, and Taiwan.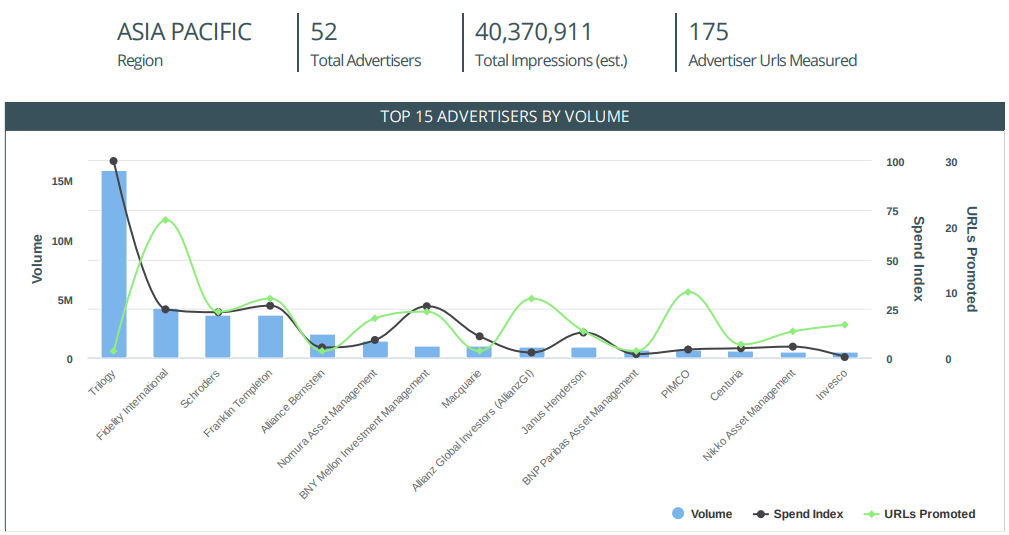 All data comes from All data comes from Fundamental Monitor, an innovative technology tool developed by Fundamental Media providing real-time insights into the advertising campaigns by asset managers across the globe.