Changes in media readership among financial intermediaries in the UK
Key points:
The number of financial intermediaries using ESG funds has more than doubled since 2018
The regular use of social media for business purposes has increased substantially among financial advisers in the UK compared to 2018 with figures that are now closer to the high usage figures seen in continental Europe
UK financial intermediaries are accessing media more often via mobile devices, especially smart phones
The decrease in the use of print among financial intermediaries is more prominent in the UK compared to continental Europe and is more prominent among discretionary portfolio managers and fund selectors (DPM-FS) than financial advisers, research by Fundamental Media has found. However, in some cases the decline has been offset by an increase in readership of the online version of the same publication.
UK financial intermediaries are also accessing media more often via mobile devices, especially smart phones. A few publications reach almost 30% of DPM-FS through smart phones while the highest readership on mobile phones among advisers was only 16%.
From December 2020 to March 2021, Fundamental Media surveyed 768 financial intermediaries in France, Germany, Italy, Spain and the United Kingdom to better understand their choices, with a focus on the implications of the Covid-19 crisis on asset allocation, working habits, access to media and their preferred sources of information.
Changes in asset allocation
Financial intermediaries across Europe expect to increase their clients' exposure to emerging market equities and global equities, and decrease their exposure to real estate and fixed income, and UK financial intermediaries are no exception. However, UK advisers are less inclined than their peers in continental Europe to plan major changes in asset allocation, apart from a significant decrease in real estate which is expected by most UK advisers and is the highest seen in Europe.
The number of financial advisers using ESG funds has more than doubled since 2018 for both financial advisers and DPM-FS. Demand remains high with 75% of UK financial intermediaries planning to increase their clients' exposure to ESG products in the next 12 months.
Most respondents believe asset managers understand ESG, but DPM-FS perceive more interest in ESG from their clients than advisers do. UK financial advisers are less certain about ESG than their European counterparts, with over half of them showing rather mixed or negative opinions about the implementation of ESG, suggesting that more communication on ESG is required from asset managers. DPM-FS also indicated that they would like to see asset managers communicate more clearly and would like a standardisation around ESG criteria and in the selection process. Together with Spain, UK intermediaries have the highest need across the markets surveyed for ESG information and support from asset managers.
Virtual events well-received by financial intermediaries
The attendance of online conferences and events has been quite high among UK intermediaries and they view online events the most favourably among all markets surveyed. Most have switched to attending the online version of the events they used to attend in person, but a quarter of DPM-FS have decreased their overall participation. In line with responses from other markets, UK intermediaries said the main advantage to online events was not having to commute while the main disadvantage mentioned was the missed networking opportunity.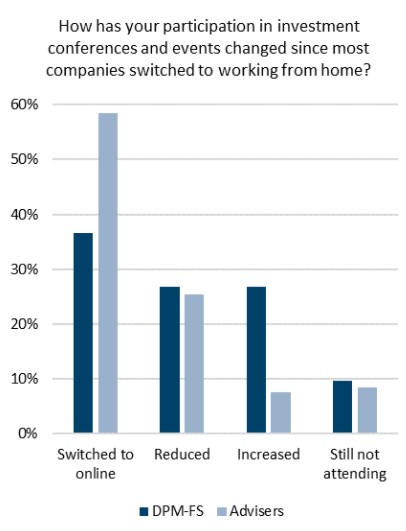 Asset managers were considered to be the best online conference and events organisers by both financial advisers and DPM-FS. Advisers described the best online events as useful, informative, engaging and often around relevant content and interesting topics such as market views, Covid updates and ESG. DPM-FS praised the best virtual events for the quality of their content and speakers, and for the direct access to fund managers. Poor content and technical issues were the main reasons given for disliking certain events by both groups of intermediaries.
Media usage trends
Most intermediaries said their use of both mobile and desktop have increased substantially, while their use of print, TV and radio has decreased. The differences between DPM-FS and advisers are remarkable although it is likely the younger average age of DPM-FS that plays an important role.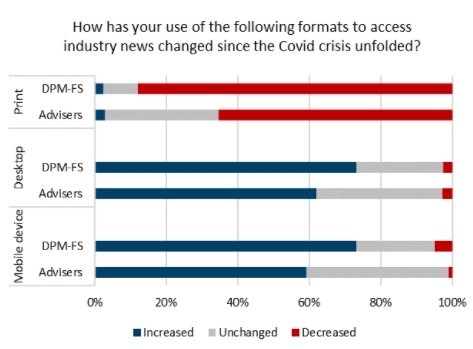 DPM-FS tend to read fewer print publications or to receive them at home, differentiating themselves from financial advisers who are much more likely to read them and to receive them at the office. Print publications are more popular among older advisers compared to their younger colleagues, with only 13% of those over 55 not reading print at all compared to almost 40% of those aged 44 or younger.
Half of the advisers receive print publications at the office and almost a third receive them at home. The UK has the highest number of advisers receiving print titles at home among all the countries surveyed. However, when looking at where specific print titles were received, figures vary substantially depending on the publication.
The regular use of social media for business purposes has increased substantially among financial advisers in the UK compared to 2018 with figures that are now closer to the high usage figures seen in continental Europe.
LinkedIn is used more by DPM-FS than by advisers and for more purposes. On the other hand, advisers are using Twitter and Facebook more compared to DPM-FS, especially to publish content. Reaching out to clients via social media is no widespread among DPM-FS, but financial advisers are widely using WhatsApp to contact their clients.
Podcasts are popular too among UK financial intermediaries: 70% of advisers and over 80% of DPM-FS listen to them. However, not all of them listen to podcasts regularly, with only a third of advisers and 46% of DPM-FS listening to them at least once a week. UK intermediaries are the least frequent podcast listeners across the markets covered.
Overall, it is fair to say that there is no one-size-fits-all when it comes to the behaviour of professional investors across Europe. Anyone catering to professional investors in Europe will have to localise their strategies to be successful.
Other findings from the UK intermediary research include:
The pandemic has had a major impact on intermediaries' working habits and professional interactions. The majority of financial intermediaries have been working from home since March 2020, while they have switched to a more frequent, shorter and virtual interaction with their clients. On the other hand, the interaction with asset managers has overall decreased for financial advisers, but has been more mixed for DPM-FS, with an increase in frequency for some being offset by a decrease for others.
An overwhelming 86% of DPM-FS and more than half of advisers were very or quite satisfied with asset managers' communication during the pandemic. Unlike advisers, who wished for more proactiveness and responsiveness, DPM-FS suggested improvements on the relevance of content and topics as well as more interactive and digital services.
---
Keep track of your professional development and knowledge with CPD Hub; our free-to-use platform which allows you to earn, track and report all of your CPD learning. Bank your CPD points for this article and access a wealth of other content by experts from leading financial institutions.